Ditch that high turnover, large staffing agency
Partner with Five Point Consulting for your temporary hiring needs
Improve Your Bottom Line by Partnering with Five Point Consulting for Talent Sourcing Solutions
Do you ever get tired of reintroducing your business to a new account manager every few months, and then just days later see another new face due to account manager turnover, requiring you to start the process all over again?
If you can relate, you aren't alone. A report recently featured on LinkedIn found that, on average, B2B sales positions experience a 35% turnover rate annually. Even further, one in ten companies have turnover as high as 55%. It's no wonder it seems like you are constantly educating a new account manager on the specific needs and nuances of your business.
The cost of employee turnover is often talked about in regards to a company's internal employees. In my opinion, not enough time is spent talking about the cost and pain that turnover inflicts on your business when it's your vendor's account manager that is the one leaving.
It's an unfortunate truth of the industry, large staffing agencies are notorious for internal turnover. Many reasons attribute to this, but put simply, the typical account manager for a large staffing agency is not very tenured and views their account management role as a stepping stone in their larger career goals.
A quick Google search for "staffing agency account manager" openings shows how little qualifications a candidate needs to become the trusted account manager for your temporary staffing and hiring needs. It is often an entry level position, you can see the two listings below show exactly this.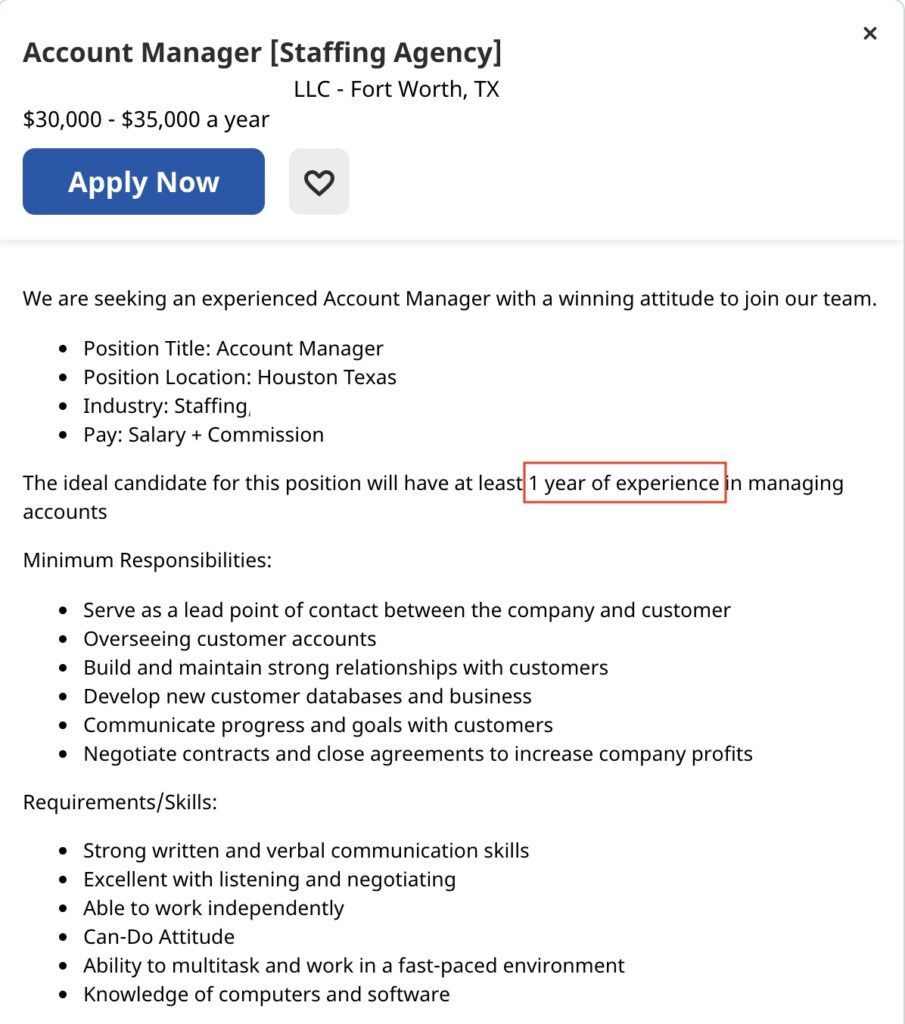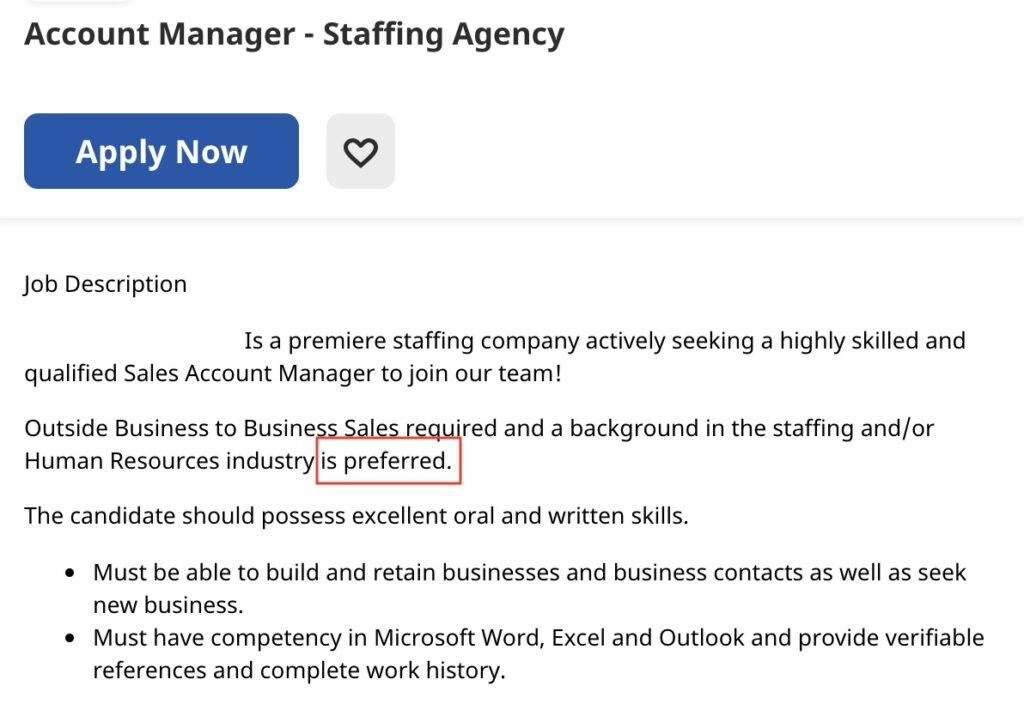 The first listing shows a minimum of one year of account management experience is mandatory (not necessarily staffing, hiring, or experience within your industry), while the other listing lists any relevant experience is "preferred". It is clear that, with these minimum qualifications, the quality of account managers you might work with when it comes to temporary staffing can vary greatly, and at the expense of your business.
With the high levels of turnover the larger agencies experience, what does that mean for your business, what is it costing you and your operation?
According to Forbes, the cost of internal turnover is anywhere between 50% and 200% of the annual salary, depending on seniority of the position experiencing the turnover.
But how does that translate if it is a vendor/your account manager that leaves their role? A new account manager has to spend time learning your business from scratch. Further findings revealed that, on average, it takes a new rep almost 6 months to ramp up and learn your business to reach full productivity. After factoring in two months for your vendor to source and hire a new account manager you have an 8 month gap, all while your business' needs have been moving full steam ahead during that time frame.
If you hire one temporary employee per month with that agency, whether they are roles that pay $40,000 or $140,000 per year, you can see how the costs your business incur due to that account manager turnover add up quickly. Your team will have to expand training while interviewing lesser quality candidates as the new account manager builds knowledge of your business. Your organization may experience delays in processing and hiring timelines, which turns into lost productivity, a sacrifice in customer service, and the risk that these setbacks negatively impact morale on your internal team as they bridge the gap on any interim increased workload.
---
This is where Five Point Consulting separates itself from the competition!
---
We aren't a large staffing agency. We are a specialized and focused consulting firm that will understand your business as if we were a partner or employee of it. We have a belief here that "we don't have clients, we have business partners". Any company we work with, we partner with to ensure mutual success, and a big part of that is understanding your needs at an in-depth level while building on that partnership and trust in the months and years to come.
Personally having 10 years of small business and fortune 500 hiring experience gives Five Point Consulting a unique ability to understand your business' needs. Our intimate understanding of your organization, along with access to a highly qualified talent pool, and most importantly, our reliability means one less headache for you to worry about. You will be able to trust in the ability of your preferred temporary staffing firm to deliver, and ensure your company's hiring plans support the needs of your business while doing so within the timelines you need.
To your future success!
Bryce Mooney
Five Point Consulting
Owner/ Founder
[email protected]
Sources
https://www.linkedin.com/pulse/why-turnover-so-high-b2b-sales-anthony-chaine/
https://www.forbes.com/sites/billconerly/2018/08/12/companies-need-to-know-the-dollar-cost-of-employee-turnover/#3a8ea7abd590